'Memory Lane'
We are so excited to be back live on the Pavilion Stage!!


Saturday, April 29th 2023 6.00 pm.
Sunday, April 30th 2pm Matinee show 
'Little Stars' & guest appearance from Seniors!
 Sunday, April 30th 2023 6pm.
Pavilion Theatre, Dun Laoghaire.
Scholarship recipients will be announced on the Sunday night after the show!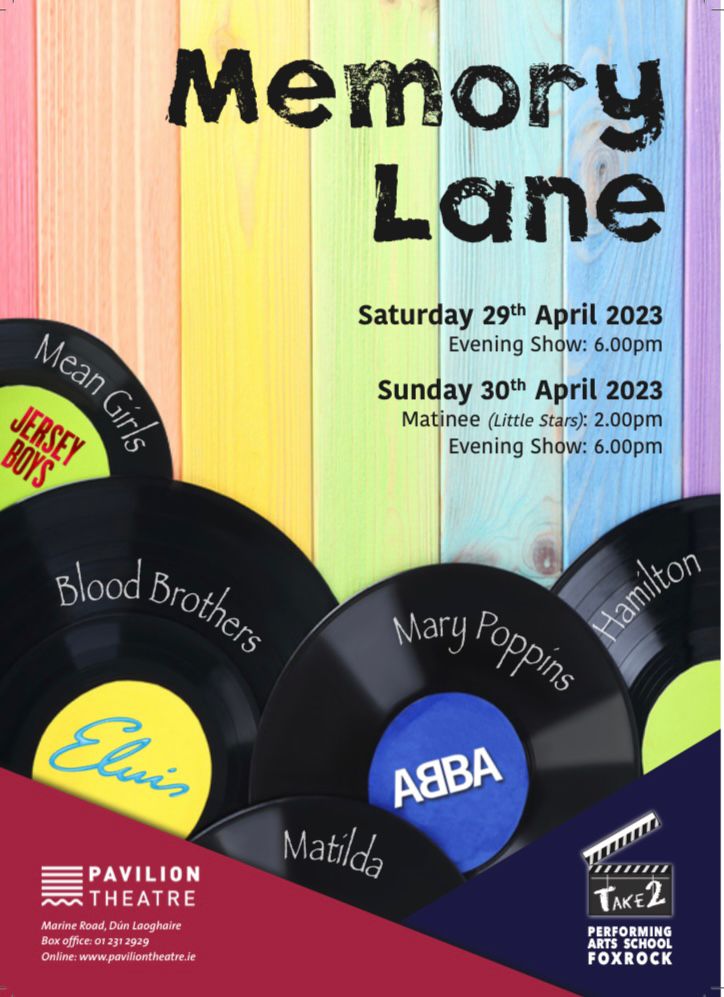 Take 2 Performing Arts school are hands down the top performance school in Dublin. It covers a myriad of disciplines, singing, dancing and acting to an extremely high level. It's hard to believe that some of the members of Take 2 are as young as 4 years.
Take 2 put on a show in the Pavilion Theatre in Dun Laoghaire each years and it runs for two consecutive nights. The energy level of the performers is at a professional standard, the production is first class. It is a well-oiled and smoothly run show.

The interest and the devotion of all who work with the children is extremely obvious in this level of outcome. I feel it is not viewed as a job by all those who work towards the show but as a way of life. Congratulations to all on another brilliant success.
Pamela congrats to you and all your team on a fantastic show. The children were fabulous. I have been to 4 shows in the last fortnight – all adults- and it was so refreshing to be entertained by the children whose energy and enthusiasm bounced off the stage and their diction outstanding- better than any of the other 4 shows I attended recently.

Congrats again- gorgeous costumes, super singing, amazing acting and deadly dancing. Congrats all the take2 team. Enjoy the celebrations when you finish the 'get out'. Love to all the girls.
Hi Pamela, just a short note to thank you and your team for giving Zara her 5 minutes glory! It has really boosted her confidence and she was shining last night after the show.Again many thanks for a great performance and in particular for making Zara a very happy girl. Kind Regards,
Pamela, I am sure you are shattered today. I just wanted to say many congratulations for the Show. It was truly fantastic. Such a huge amount of work put in by you (and all your team). Well done.

The boys and girls were just amazing. Stuart and I were so impressed at the amount of lines, dance routines, productions, costume changes that they had to grasp – and boy did they! They were really superb. We are of course extremely proud of Emma. She knew everything pit pat and really took to it. A good little dancer I think!!!! She loved every minute of it.I hope you are pleased with the way things went. Enjoy a bit of a rest!!! See you Saturday and many thanks and well done again.
They were fantastic …General consensus was the kids had such a fantastic weekend and loved every minute of it well done to you and your crew…. The show was great but more important the kids had a blast.
Hi Pamela, just wanted to write to let you know I thought both evenings over the week-end were a rip – roaring success. Huge congratulations and I am sure you are very proud of you young actors and your crew. I know Amelia adored it and I did walk away a very proud father. Amelia has thrived on your classes and guidance for I thank you tremendously. Best regards,
Pamela, Therese and all the gang, Congratulations on a fabulous show over the weekend. Really enjoyed it. All the cast looked so happy and full of enthusiasm on the stage. Isabel disappointed it's all over for this year and looking forward to the next one.
Hi there just a quickie to say well well done, You did a super job with the show, Thought it was great, and most importantly both Lily-Mae & Skye thoroughly enjoyed both nights. Tks a mill,
Many congratulations, Pamela and all your fabulous team another resounding success. Really enjoyed it. Loved being back stage. Have a hugely deserved rest.
Hi Pamela, thanks for everything and the professionalism. Really appreciate how tidy you all left the theatre & delighted it was such a success for you, you're 'great'! We have so many dance & drama schools in. But yours is by far the best, because the kids genuinely love it and are having a great time, and that's very obvious, so well done. Will definitely be recommending your school to all my friends. You've created a great team around you, whatever you're doing – keep on doing it! Was so lovely to meet & work with you.
Pamela, well done to you and all your team on a super show this weekend! It was wonderful! Jennifer loved it all! Well done!.
Another wonderful show… Amazing costumes & very clever theme. Well done! Hadn't heard Amelia's song in full-a lot better than her kitchen version!
Pamela, thank you so Much for putting on such a great show. Unfortunately, I was away but Shane said it was fantastic and Anna had the best time of her life. Thanks,