'Memory Lane'
We are so excited to be back live on the Pavilion Stage!!


Saturday, April 29th 2023 6.00 pm.
Sunday, April 30th 2pm Matinee show 
'Little Stars' & guest appearance from Seniors!
 Sunday, April 30th 2023 6pm.
Pavilion Theatre, Dun Laoghaire.
Scholarship recipients will be announced on the Sunday night after the show!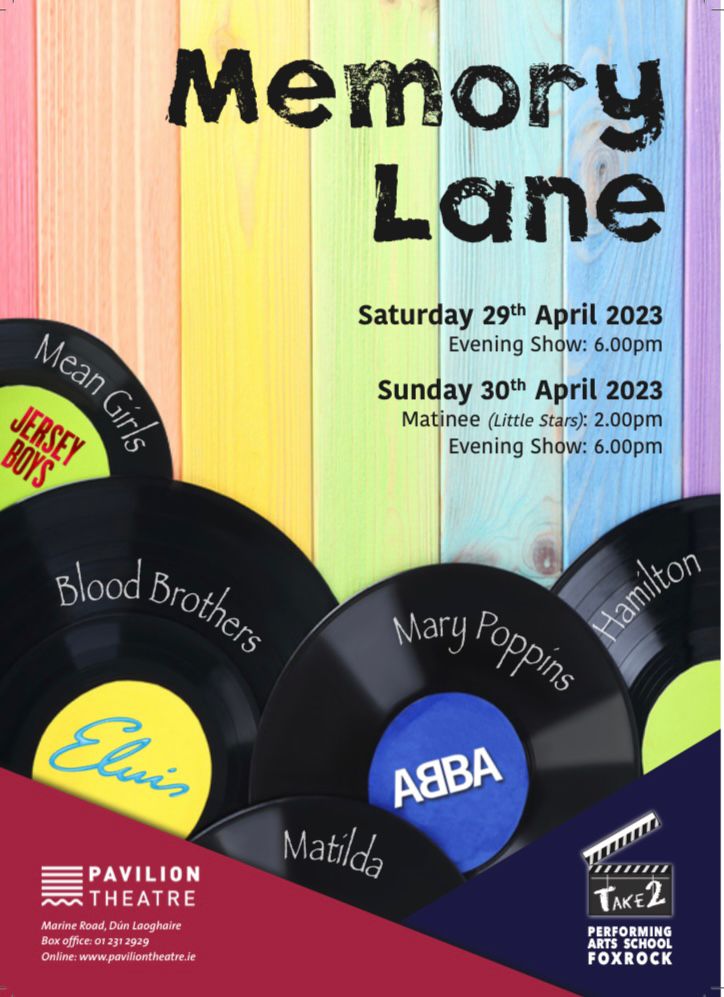 In Praise of 'Memory Lane'
Pavilion Theatre, May 29th and 30th 2023
Hi Pamela, Ciara, Sophie, Caroline and Karl 
We just wanted to thank you all for another amazing year at Take 2. Karl and I are so blown away with all the hard work you put into the show. I don't know how you do it all and we appreciate so much everything you do. They all looked so happy on the stage. 
For us personally, we are beaming with pride that William was on stage and performed the show the way he did. It melts my heart to see him singing away and smiling and the fact that he remembered his moves. He kept it all a secret and would not tell us what he was doing!
Hilary & Karl
Hi Pamela, just a txt to say well done to the Take2 team for putting together such a wonderful show this weekend. Lara's confidence has grown so much taking part in your stage school. Hats off to all the lovely teachers. We really enjoyed all 3 of the shows 💖💖💖
Aisling Purcell
Hi Pamela
A quick note to congratulate you on an amazing weekend of shows. We went on Saturday night and were blown away by the show. So much talent on stage and more importantly the kids all looked so happy to be up there performing. It's no mean feat putting on a show like that so huge thanks to you and all the Take2 crew for all the hard work. 
What a fabulous end to a really great year in Take2. 
Hope you can put the feet up and relax today and well done again. 
Huge thanks
Jayne
Thank you so so much Pamela I really appreciate it and congratulations on the 35 years in the making!! 🙂
Katy & Fergus Kelly 
Hi Pamela
Well done and congratulations on a fabulous show.  Anna was in her element.  Thanks to all the team. 
Hi Pamela – just wanted to say a huge congratulations on the end of year performance.  We were blown away by each and every persons talent and the clear hard work and organisation that went on over the year and to produce something as professional and brilliant as it was. Jamie absolutely loves Take 2.  I was taking advantage of annual leave that needed to be used and cheap flights to take the boys to Portugal at the beginning of April. Jamie was really excited but when I said it would mean missing Take 2 he said he wouldn't come.  Ian and I are delighted to see him loving it so much and being so happy it has made a huge difference to him. So huge credit to you on all levels.  we were so proud of Jamie (I saw it twice!) and so so so impressed by Take 2. We've seen Matilda in London and honestly Take2s was every bit as good!!! (am going to totally biasedly 😏 say Jamie and Gerry are our very favourite Blood Brothers too!!) but genuinely every minute was fantastic!!! Huge credit to you and your team!!!!
Karen Chamberlain 
Thank you Pamela and the team Erin is over the moon! Unforgettable experience for her and all her Take2 pals. Well done everyone 🥰👏
Ania Griffin 
Thank you all for a fantastic weekend. A truly memorable couple of nights for all those on stage thanks to the hard work and commitment of all of those off the stage. 👏👏
Mary Cullinane 
Hi Pamela,
We were amazed at the show on the weekend, we were so impressed.
Danielle's words – Best nights of her life!
Thanks so much to you and all the team
Elaine Miesyerus 
Ah Pamela , what a weekend! It was just amazing.  Thank you & the team for all you have done for Oriana over the years…. she has achieved so much more than she ever thought. This weekend was the absolute pinnacle ✨🌟✨ much love ❤
Gillian Nash
Pamela & all the team well done an amazing show 🤩we are delighted Pearl went on tonight she said she had the best time ever !!!! 
– we are very proud xx
Amira Whitelaw
Massive Congratulations on 35 years, had to text as Richards parents and my parents have been coming since Cameron started and they all unanimously said this was the best show yet so 🫶and we'll done to the whole team 👏👏👏👏
Debbie Barron 
Mèabh thoroughly enjoyed the experience yesterday and all the preparations over the past few weeks.  It was so lovely seeing it all come together 🥰 amazing to see their confidence grow since they have started. Congratulations Pamela and team on 35 years. Continued success…x
Maria Byrne 
Such an enjoyable show on Sunday and well done on all your hard work. 👏 😊 It was a big hit in this house.
Sarah Barry 
A very well done to all especially the wonderful little stars ⭐️ really great show
Barbara Spollen 
A big thank you to Caroline, Sophie and Pamela for all the hard work putting together such a great show. Riley had the best time ❤️
Nicola Philips 
Thank you! It was a wonderful show. Hugo really enjoyed himself 😍
Caroline McNamara 
Thank you all so much – Nina had the best time. Did you see her mouthing 'stop clapping' at me! 🤣🤣
Louise Malone 
Best show ever! Thank you so much 😊 for everything Take 2. I was bursting with pride! Well done to all lights! 👏👏
Hilary  Merren 
Thank you all very very much for your hard work. It really showed tonight.
And a huge well done to all the boys & girls. 
What a show! 🤩
Mary Breen
Fantastic shows 👏🏻 
Well done and thank you Pamela and team. Amazing performance from all the Lights girls & boys. 
Superstars! ⭐️
Suzanne McElligott
Hi Pamela & Team, 
Thanks so much for a fantastic show last night, all the kids were super and were having a great time on stage, we appreciate all the work that goes on in the background so thank you. 
Regards, Dee 
Hi Pamela and team 
Congratulations on an amazing show. What a joy it was to see such happy kids with big smiles! 
Well done to all of you
Siobhan  xx
Hi Pamela, Sophie and Caroline,
I'm only getting a chance to send this now but wanted to say well done on such an amazing show especially with all the little stars ⭐️ on Sunday !! There was so much hard work behind it from you ladies and the biggest thanks for all your kindness to the little ones on Sunday and every Saturday. Eleanor loved it all !! She had the best time, performing and watching the "older" stars especially "Sponge Bob Square Pants" – and she now wants to have a mike and sing next time 😂. All the performers were just absolutely brilliant, it was such an amazing hour. The Hamilton scheme was so well done they were fantastic. 
Derina and Barry Smith